"Sharon Hunter is such a delightful personality and the best singer and her upcoming CD will be a good listen."
"Sharon Hunter does an amazing rendition of Copacabana, in the style of Kander and Ebb."
"Hunter is charming and talented and does a joyous Only The Good Die Young."
THE MUSIC GOES ROUND AND ROUND




SHARON HUNTER PLAY ME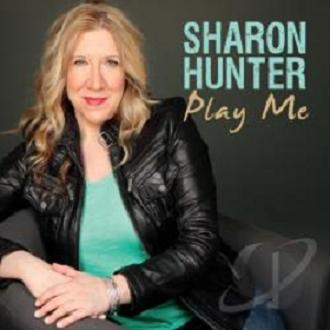 with Barry Levitt on piano, Ira Siegel (who is currently on tour with the Bacon Brothers) playing guitar, Jeff Ganz on bass and Howie Gordon on drums. La Tanya Hall and Darryl Tookes provide background vocals.

Released on the Cd Baby label, this is a single disc containing 15 songs. The concept for this studio recorded CD originally came out of a live show that was performed at Don't Tell Mama and the Metropolitan Room in 2013-14 in New York City.

The selections are all well known rock and pop songs that were made famous by male artists in the 1970's. What is striking is how the renditions on this CD give new life to songs we all thought we knew. While Hunter has performed at major cabarets in New York City, her name may not be broad market recognizable. She deserves to be heard and this CD played.

This CD has a unique concept, which could have resulted in either a too cute, or clunky attempt to stand on the success of others. Instead, she pulls it off. Play Me is an interesting and entertaining CD.

She's smart enough not to use the same arrangements and singing style of songs infused with particular artists, such as Kris Kristofferson's Help Me Make It Through The Night, Rod Stewart's Do You Think I'm Sexy or Elvis Presley's Burning Love.

A melding of I Don't Want to Be Lonely Tonight segueing into a most unusual soft talk/sung version of Do You Think I'm Sexy, backed by a tinkling piano. Then she returns to the soulful I Don't Want To Be Lonely Tonight That is followed by the drum beat driven, high octane Hot Legs. Long associated with Barry Manilow Copacabana is given a slowed down, almost smoky, Paris house sultry type delivery with a few adagio tempo bars.

Hunter delivers a little patter leading into Get Down Tonight, a rendition which makes you visualize the disco ball. That's The Way I Like It is tender, again backed by only a soft piano, while Crazy Little Thing Called Love is rock. Only The Good Die Young also rocks. Complimented by her two backup singers who accompany her on five of the cuts, she closes her CD with a plaintiff version of How Can You Mend a Broken Heart.

Hunter has a southern root or two having been the host and producer of the Memphis Today Morning Show on WREC-AM and was the news director and morning anchor at KIX-04, also in Memphis. As the original host and producer of Pillow Talk on KEZK she developed a radio voice which attracted and held the listeners. That seductive talk-coo ability serves her well on several of the CD selections.

Barry Levitt's arrangements favor her vocal range which is "low E3 to C6 - alto-mezzo," she told Broadway to Vegas. Levitt's contribution to this CD can't be underestimated. His new arrangements and piano playing style range from Jerry Lee Lewis to soft and tender. Likewise guitarist Ira Sielgel, drummer Howie Gordon and Jeff Ganz on bass join Hunter in star billing.

It can't be emphasized enough that this CD is a group effort and Hunter has been listening to the right people. Too often cabaret singers, desperate to get a CD out, slap a disc together on the cheap. Bad sound and mixing can destroy even a great performer. Exceptional sound and mixing have made marginal singers stars. Technically, this CD is total quality, giving Hunter support in a difficult industry. The first cut Old Time Rock and Roll is an attention getter. Hunter's voice takes command as a robust blend of dirty blues and hillbilly rock and roll. Bonnie Raitt made it her signature style, but not many women can follow in her footsteps. Hunter shines on this cut and should consider developing that blues/rock style.

Recorded at John Kilgore Sound and Recording. Mix engineer: John Kilgore.
PLAY ME by SHARON HUNTER
www.sharonhuntervoice.com
Produced by Sharon Hunter Productions
Vocals: SHARON HUNTER
Background Voices: LaTANYA HALL and DARRYL TOOKES
Piano: BARRY LEVITT
Guitar: IRA SIEGEL
Bass: JEFF GANZ
Drums: HOWIE GORDON

In Sharon Hunter's debut album, PLAY ME, she takes some (all?) of the much-loved songs from the 1970's and gives them a feminine twist. Her voice perfectly matched to the music, she relays the message without sacrificing the tune and the power of the original song that made it such a favorite. With a touch of husky and a sense of playfulness, she holds her own with masters like Neil Diamond (title song), Paul Simon ("Still Crazy After All These Years"), The Eagles ("Hotel California"), Bruce Springsteen ("Fire"), Kris Kristofferson ("Help Me Make It Through The Night"), John Denver ("Take Me Home Country Roads"), Billy Joel ("Only The Good Die Young"), and many more. Pop, Rock, Country/Western, R & B – no problem. Hunter's clear voice and enthusiasm bring it home in style.
PLAY ME has a wide variety of 15 well-executed songs that are guaranteed to bring back a memory or two. Sharon Hunter makes it so much fun that this could become one of your favorite albums. PLAY ME is available at cdbaby.com, iTunes, and Amazon. Treat yourself.
- Laurie Lawson -